Some of you may not know that I am the founder and administrator of the San Diego Wedding Professionals networking group. I started this group almost two years ago and we already have over 100 members. I love this group so much because it has helped me meet so many great vendors in the San Diego wedding industry over the past few years. It has also allowed me to check out some really cool venues that I may not have known about otherwise.
I love to share when I find an exciting venue or vendor. Our group recently met at The Pearl in Point Loma and I could instantly see the potential for an adorable unique wedding space. I went back for a visit with the Sales and Event Coordinator, Cynthia, and to take some photos of the space to share with you.
This vintage boutique hotel is a great space for a non-traditional wedding ceremony. There is no classic aisle for the bride to walk down; instead your guests will sit at fabulous little cocktail tables around the salt water pool. You and your love will stand in front of a lovely succulent wall which you can adorn with whatever beautiful decorations your heart desires. The light and airy front lounge is a perfect spot for your first-look or some couple portraits. For a non-traditional reception, break out your bridal bathing suit and set your couple slide show to some funky music on the dive-in movie screen!
Now obviously these photos were taken during the day and not during a wedding, but pair this space with your own Pinterest board and you can see how fabulous it will be!
The Pearl best accommodates smaller weddings and pre-wedding parties. If your guest count is 150 or less and you are looking to make a splash with a unique San Diego wedding, check out The Pearl HERE.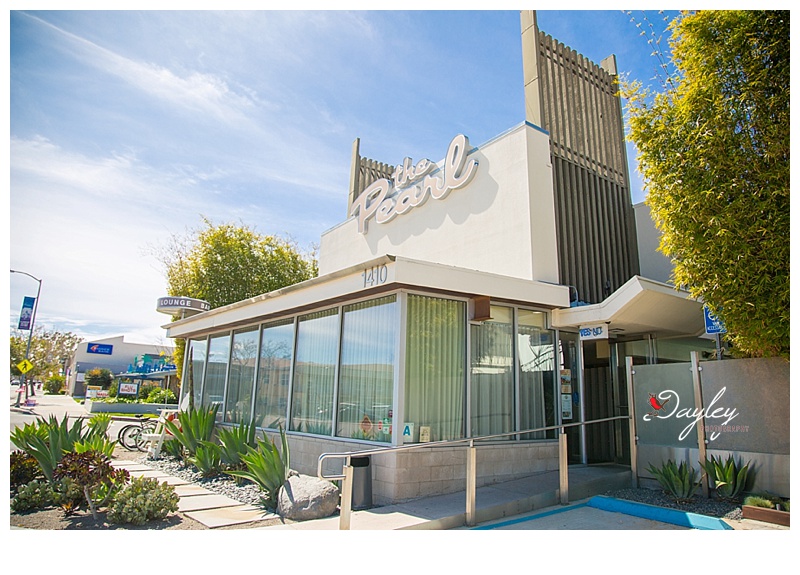 Save
---